Benefits of staying hydrated
The importance of water
Next to the air that you breathe, water is the most important thing your body needs. Your body consists of around 75% water. To give you some perspective, just how important it is: If you lose just 10-15%, you will go into severe dehydration - with symptoms such as fever, unconsciousness, and delirium. You can survive for weeks without food, but only 3-4 days without water.
Shouldn't our bodies tell us when it's time to drink?
Isn't this what thirst is for? Yes, but over time we conditioned ourselves to ignore thirst. Think about it: Imagine you are working on something. You start to feel a hint of thirst. You probably tell yourself that you are busy and ignore it. "Well, I'll just drink later." And then you don't.
Your body learns that very quickly. It also knows that drinking is just one way to rehydrate. Food contains water. And we have a much harder time ignoring hunger than thirst. So instead of getting thirsty, we get hungry. This will keep your body hydrated enough to survive, but it's far from the optimal amount. It's like running an engine on low oil. Also, it comes with a price: You gain weight.
You might be surprised
If you are not convinced yet, you are not alone. Most people don't really think about this. Well, at least not until they feel one of the side-effects mentioned above. But you might be surprised how much better you will feel once you are hydrated for a while. It won't happen in a day, but if you stick with it for a week or two, and you may never want to go back.
Fluid will help you to do that. And have fun doing it.
Features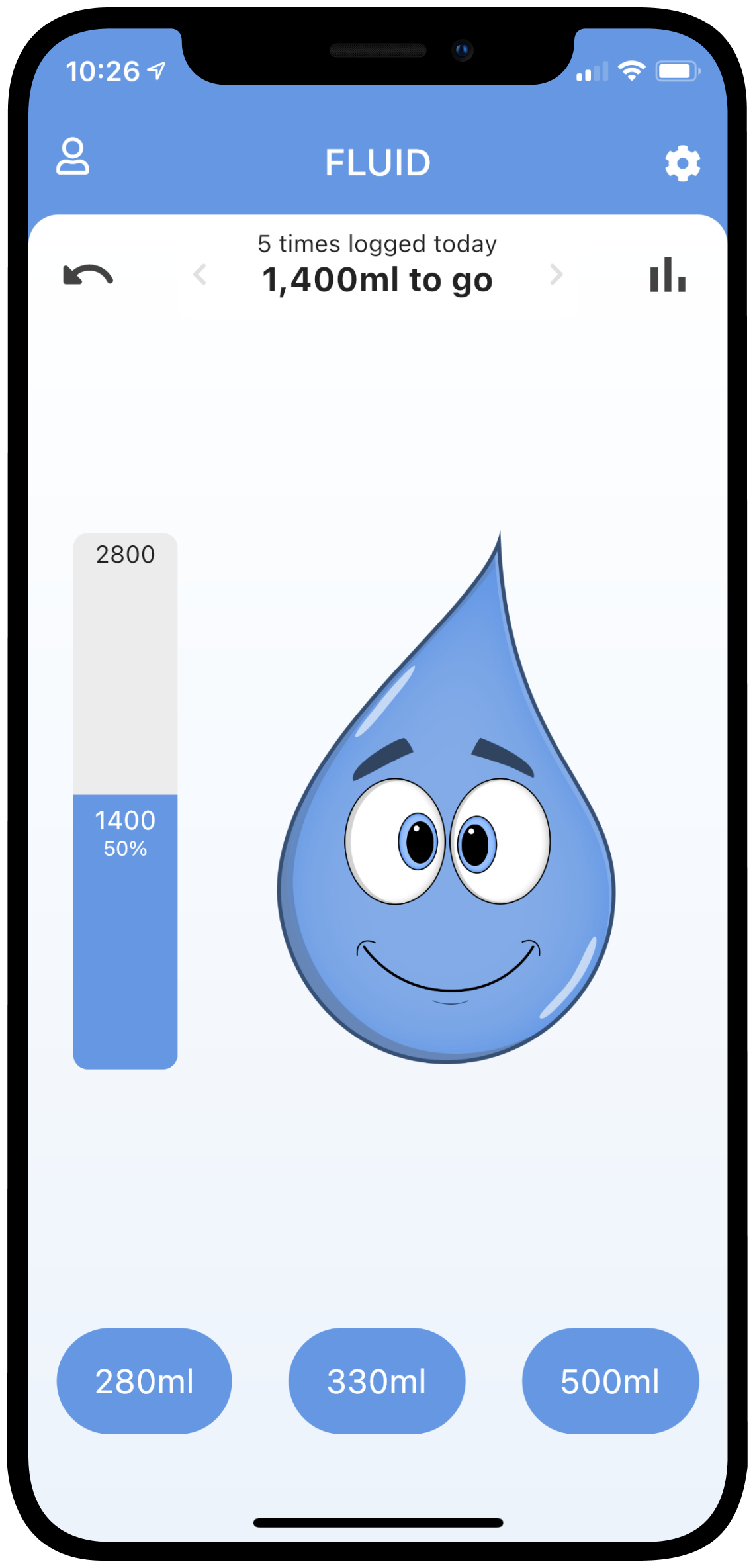 Made for busy people
Logging only works if you do it. Fluid allows you to log what you drink in seconds.
Log regular amounts with the quick access buttons. Or quickly enter custom amounts by tapping on the water bar.
Have fun
We get it. Logging water is usually not the most fun activity. So we worked hard to change that. Instead of just a boring progress indicator, we like to introduce Drop.
Drop will help you to feel great when you log something. And cheer on you when you reach your goal.
Easily spot trends
While you might feel some immediate effects, the real benefit of good hydration is long term. To help you spot trends, Fluid will keep track of your history.
With one look, you can see how much you drank compared to your goal as well as your weekly average.
Building a habit
Once you made hydration a habit it becomes effortless. We believe that building a habit needs the right focus.
Therefore, the most important metric in Fluid is your log streak, i.e. how many days you logged in a row. Every day you log is a win. Because every day you log helps to build the habit.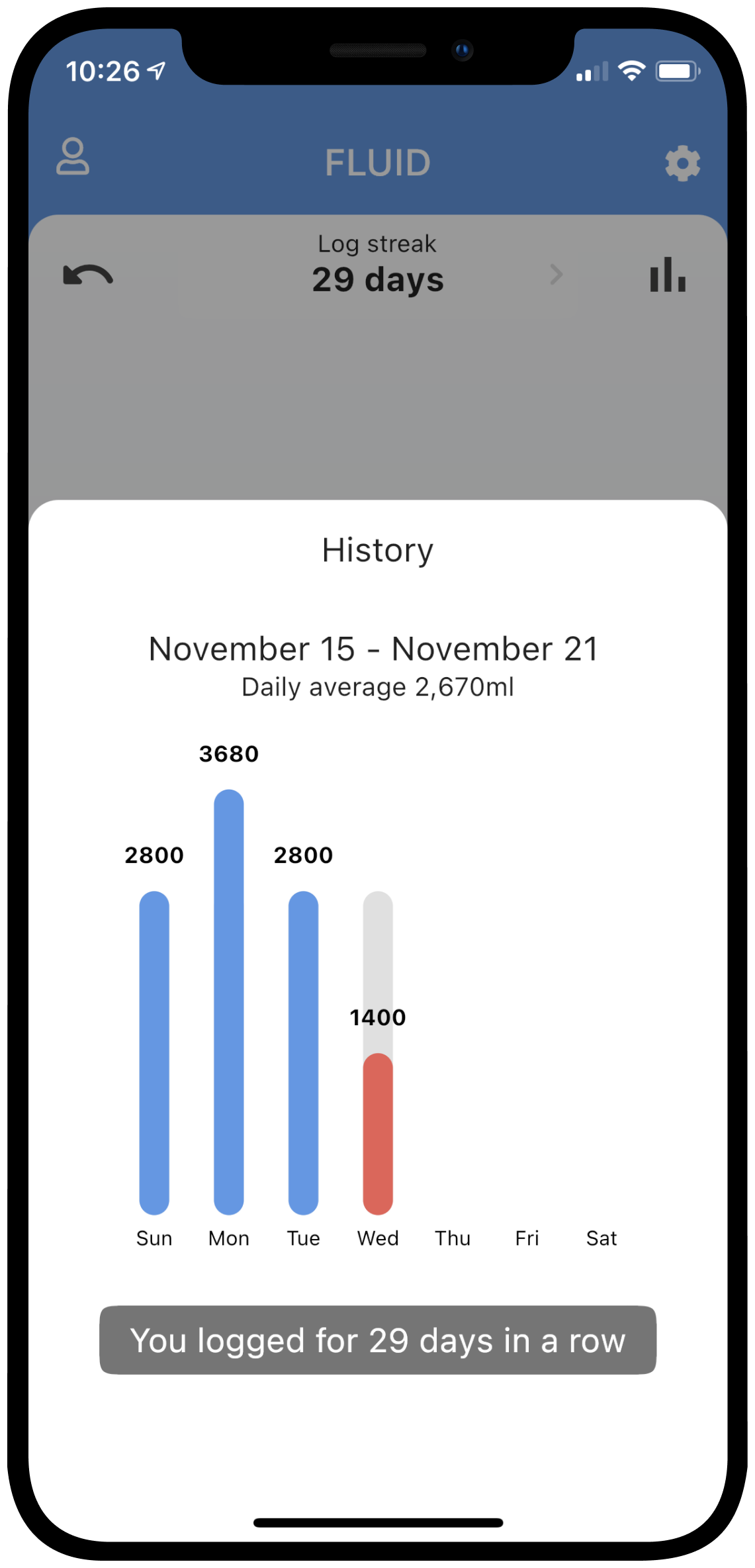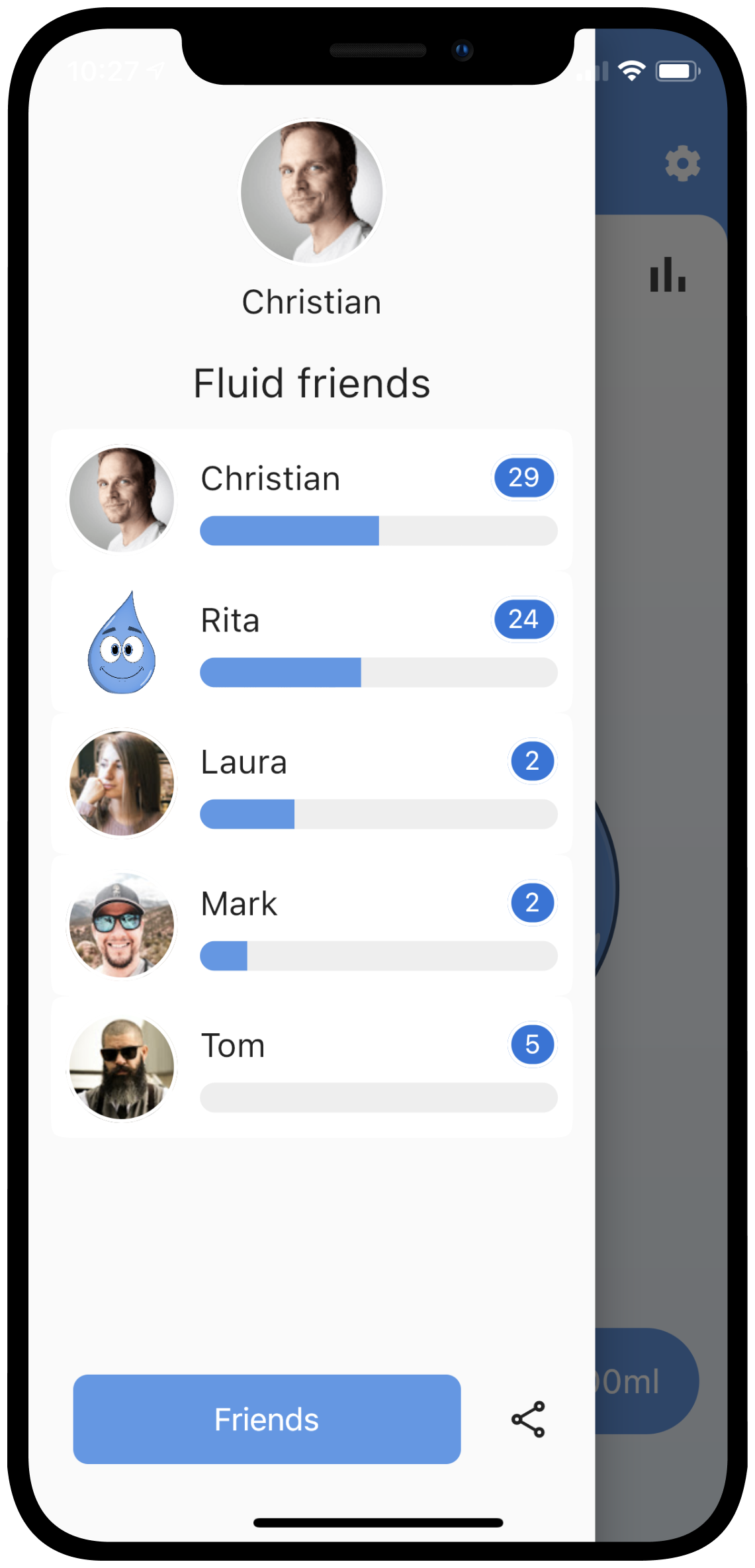 Better together
Speaking about habits: Do you know the easiest way to make yourself stick to it? Tell your friends about it. Commitment works.
In fact, you might be surprised how well this works. We dare you to try.
Connecting made easy
To connect with friends is super easy. Just send them a special link and wait for them to accept it. Now you can see each others progress and stay motivated.
Make it your own
Prefer imperial or metric unis? Want to get a recommended water goal or rather set a completely custom one? No problem. Fluid offers a range of settings to tailor it to your needs.
Get subtle, but smart reminders
To make sure you don't forget to drink, you can let Fluid send you smart drinking reminders.
Freely choose the start and end time as well as the interval. Fluid will update the schedule whenever you open the app, so you only get reminders when you need them.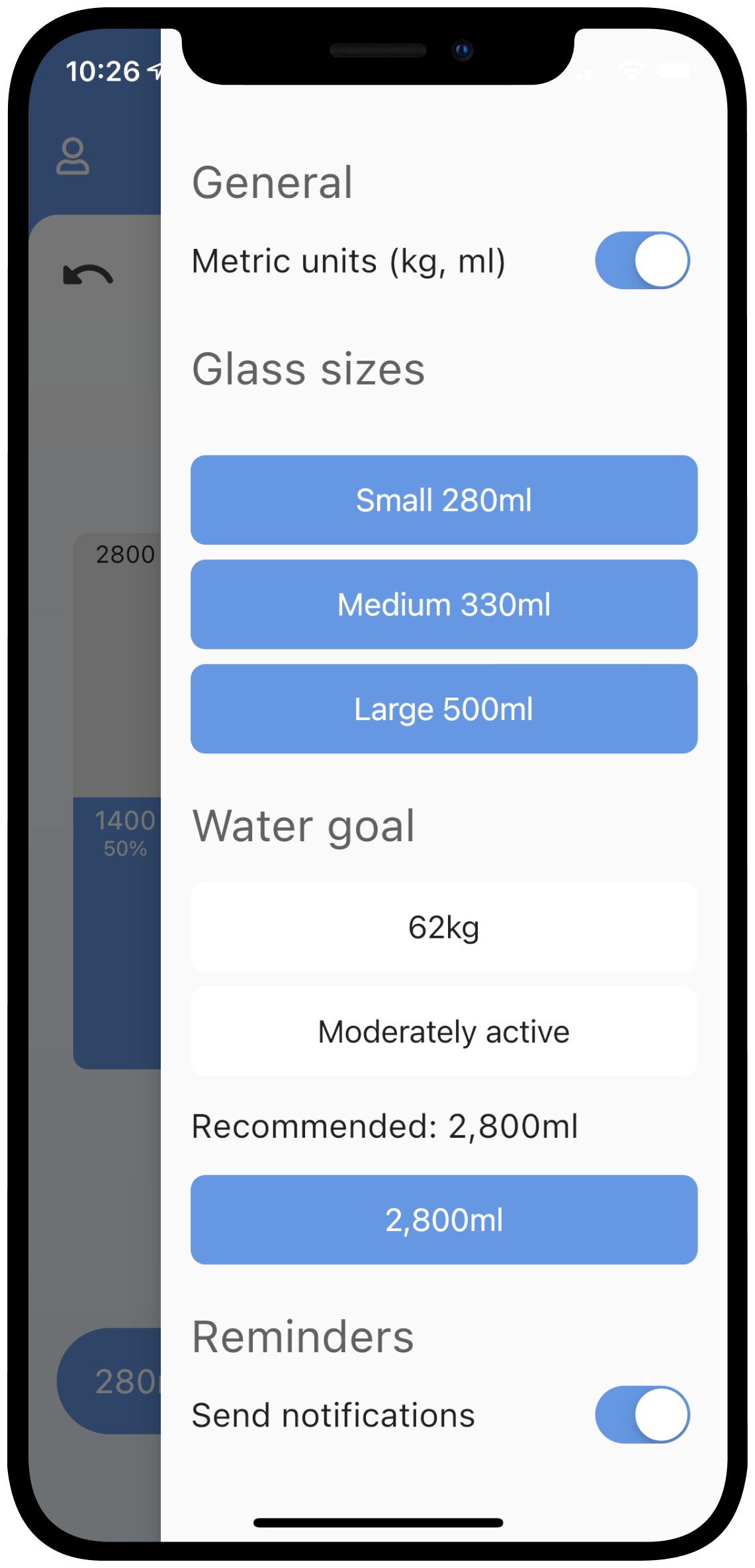 Give your health a boost
Feel better while having fun. Try out Fluid today!